The month of October is a blur. Aside from the repeat illnesses and sheer exhaustion from pregnancy, we celebrated two special birthdays: Kate turned 3 and Cora 1. We also began some serious home improvements: Daniel tiled our bathroom and laid flooring in the kitchen, living room, and utility room. With child number three on the way, the tight quarters are not so cozy anymore, which is why we are in the process of preparing our home to sell. Sure we could feasibly bunk the two girls together, leaving a spare room for the baby, but there is very little space anywhere in the house for the kids to actually spread out and play and certainly no privacy.
However, as I research the homes for sale, I feel an internal struggle. It's a question of needs versus wants, of necessities versus luxuries, of living humbly within our means and desiring more. Certainly a home with four bedrooms--one for each child, a guest room, and a master suite--would be lovely, but is that truly necessary? Children can share rooms. Plus, how often do we really have a guest overnight? It's pretty rare. Also, granite countertops are beautiful, but laminate works just as well.
It is so easy to get caught up in thinking that we need this and that in our new house because we feel a sense of competition among our peers. We see people with brand new, custom-built homes with all the best amenities and 2,000+ square footage, but while we do need more space for our growing family, do we really need all that? I'm not saying there is anything wrong with having a nice large home because there isn't. Trust me; I would love all of those things and more. But, honestly, I don't think they are best for me. (Of course I am speaking only for myself.)
Thoughts of cleaning and maintaining anything considerably bigger than our humble 1,000 square foot home make me cringe. Even more importantly, I fear how a larger home will affect my relationship with God and my family. Right now, I have to make a real concerted effort to spend quiet time with God and quality time with each child and my husband every day because I am constantly doing things a homemaker does: cleaning, fixing meals and snacks, doing laundry, etc. (the same things you do). There are days when the kids watch TV or run amok just so I can "get things done." What will happen when the house is bigger, and there is even more room for even more messes? What or who will get the short end of the stick?
Sure it's a question of priorities. I could maintain a clean home and play with my kids and find quiet time with God each day and spend time with my husband and have a minute to write and maybe half a second to breath. It's possible but, for me, not feasible. Something will be shortchanged.
The question for me is this: What is truly necessary for a Christian home? Hardwood floors, or a safe, inviting place for our family to rest and enjoy each others' company? A fenced-in backyard, or a place of love and tranquility? A bonus room for the kids' toys or a space where the Lord is feared and honored?
"How blessed is everyone who fears the Lord, who walks in His ways. When you shall eat of the fruit of your hands, you will be happy and it will be well with you. Your wife will be like a fruitful vine within your house, your children like olive plants around your table. Behold, for thus shall the man be blessed who fears the Lord."


Psalm 128:1-4
As I pray about our future home and consider the necessities, I want to make sure that I am following God's will and keeping Him front and center at all times.
"Unless the Lord builds the house, they labor in vain who build it..."
Psalm 127:1
What do you consider essential to a Christian home? I would love your thoughts!
I pray God's richest blessings on you and your families.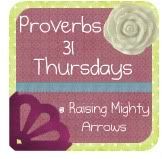 >