If I had been sticking to my menu plan, we would have been having Spinach Salad with Warm Bacon Dressing on Wednesday night. However, since I didn't end up going out of town on Tuesday, I decided to use up the roasted chicken from Monday to make this recipe. Let's just say that what started out as a 9 x 13 pan of enchiladas ended up with one little Ziploc storage container of leftovers. Cora, the 15-month-old, ate two bowls, and Daniel and I both had two platefuls.
Since I am trying to forgo making extra purchases at the grocery store and instead use ingredients on hand as part of the
Pantry Challenge
, I made the enchilada sauce from scratch. Don't be scared by all the ingredients: they are all things you probably have in your pantry. And, oh my, it's divine! Plus, you can make your sauce earlier in the day, throw everything together, and then put it in the oven thirty minutes before dinnertime. Easy and delicious!
Here's what you need:
Enchilada Sauce
1 T. canola oil
1 cup chopped onion
2 garlic cloves, minced
1 T. chili powder
1/4 cup all-purpose flour
1/4 t. dried oregano
1/4 t. cumin
1/4 t. salt
Freshly ground black pepper
1 1/2 cups chicken broth
1 large can (15 oz.) tomato sauce
2-3 drops hot sauce
2 cups cooked chicken, shredded
In a large skillet over medium heat, warm oil and saute onion and garlic until tender.
Add chili powder, flour, oregano, cumin, salt, and pepper to taste. Then, add broth and stir until thickened.
Add tomato sauce and hot sauce and stir.
Stir in the chicken and simmer on medium-low heat uncovered for 10 minutes.
The Rest of the Bake Ingredients
10 corn tortillas
1 1/2 cups shredded Cheddar cheese
1/2 cup sour cream
Preheat oven to 350 degrees.
Usually, I make enchiladas the traditional way--by softening the tortillas, filling, then rolling them up. However, for some reason, all my corn tortillas sliced in half. Who knows? So, I opted to cut them into strips, then tear them into smaller, bite-size pieces.
Add a layer of enchilada sauce to the bottom of a 9 x 13 pan.
Then, spread torn up corn tortillas on top of sauce, sprinkle with 1/2 cup of cheese, and top with a few dollops of sour cream.
Sauce-Tortillas-Cheese-Sour cream. Repeat layer after layer until all ingredients are used up. End with cheese on top.
Bake for about 30 minutes or until bubbly. Let stand 10 minutes before serving.
Serve with avocado, lettuce, and tomatoes or your favorite toppings. Delicious!
Serves 5-6.
I hope you enjoy this adaptation of a recipe from one of my favorite cookbooks,
The Big Book of Potluck
.
Blessings to you!
For comments or questions, contact me at: growinginhisglory@gmail.com
Find Growing in His Glory on
Facebook
.
I would love to see more of you! If you are encouraged by what you read here and would like to have posts from Growing in His Glory delivered to your inbox daily, simply click here. Or you can subscribe in a reader of your choice.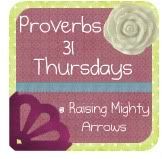 >