Well, it's the start of a new year and with that comes new beginnings, new goals, and new attempts at productivity. When the door to our freezer wouldn't shut the other night, I decided it was high time for another "Eat-from-the-freezer-and-pantry Challenge". So, I will be participating with
Life as Mom
and other bloggers in the January pantry challenge.
Essentially, a pantry challenge is what you want it to be; you set your own personal goals.
The first year I participated I wrongly assumed that I was only to eat what food we had on hand and not spend a penny at the grocery store. Let's just say I gave up after a week! If you have a very large stockpile of food in your freezer, fridge, and pantry and want to see how much money you can save by not buying groceries, then I say "Go for it!" But don't limit yourself or you may burnout pretty quick!
Since that very first pantry challenge, I have modified my goals to accommodate our family's needs while still attempting to save some money at the grocery store. This go-around my goals are much more lax than they have been in the past, yet I hope this will help me stick with it.
January Pantry Challenge Goals
1. Lower our Weekly Grocery Budget!
Create a two-week menu plan and concentrate on using up the food we have already. If I need extra ingredients, though, I'll get them although I do want to limit those extras and use up what we've got.
2. Inventory it!
Take & keep inventory of the contents of my freezer, refrigerator, and pantry, so I will know what we have and, when something goes on sale, so I can stock-up!
3. Shop only for the Basics & My Stockpile!
Limit grocery shopping to the
basics
(milk, yogurt, eggs, bread, & fresh produce) and
stockpiling
when I find a really great deal. If it's not essential and not at my stock-up price, then I'm not buying it!
Tools for a Successful Pantry Challenge
What is essential to me in taking part in a pantry challenge is to first take inventory of all the food you have at your disposal.
In my experience, if you don't know what foods you have, then you won't be very successful in cleaning out your freezer, fridge, and pantry. I have created three very simple inventory worksheets that you can download and save or print out.
You can find my Refrigerator Inventory, Freezer Inventory, and Pantry Inventory worksheets here.
The second essential tool for a successful pantry challenge is to create and stick with a menu plan.
I have decided this time to plan my meals every two weeks (one day I'll plan a monthly meal plan!).
I have a handy Menu Plan & Grocery List worksheet that you can download here.
I just print out one each week; jot down our menu on one side and any extra ingredients I'll need from the store on the other. Then, I can take it with me when I get groceries and post it on the fridge for the family to see.
I hope that if you have a bursting-at-the-seams pantry, fridge, and freezer, you will join me (and many others) for the January pantry challenge. It's a great way to clean out the old and make way for the new in this brand new year! Be sure to check out my handy-dandy
Freezer/Refrigerator/Pantry Inventory and Menu Plan & Grocery List worksheets
free for your use.
Blessings to you!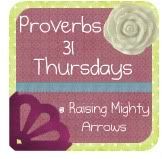 >