With the holidays finally behind us (man, do I sound like a Scrooge?), I feel like we can now ease back into a routine. I don't know about you, but the schedules and routines that hold our days together suddenly disappear in the midst of the holiday season when Daddy's home and "school" is out. So, today and for the rest of this week, the girls and I are catching up on some much-needed rest and slowly getting back into the groove of life as we know it. That means returning to "school" for Kate tomorrow, getting back into a nap routine for both girls, reestablishing my regular cleaning schedule, more "from scratch" cooking, and simply getting organized.
I'm also ready to get back into a groove with this here blog. I've been so busy and scatter-brained lately that writing hasn't been high on my agenda. That's pretty much because I have trouble remembering what day of the week it is most days! Oh, the joys of having "pregnant brain"! But I do want to let you know about some of the topics I'll be covering this month on
Growing in His Glory
to keep you checking in:
The January Pantry Challenge. I'll post weekly progress reports here on Mondays.
Bookin' It! You can check out my 2012 reading list here. This month I'm reading Tsh Oxenreider's Organized Simplicity plus finishing up Black Heels to Tractor Wheels by Ree Drummond (The Pioneer Woman) AND The Hunger Games by Suzanne Collins. Let's just say these are three VERY different books that have put me into VERY different frames of mind (from tears and laughter to fear and stomach-churning). I'll be posting the book reviews for each as I finish them.
New recipes I'm trying out
Devotional thoughts for the New Year
And the beginning of a new series in February on Prayer
Thank you for reading and especially for your encouraging comments. They keep me motivated! I pray God's richest blessings on you and your families in the year 2012. Pray for me as I get back into my blogging groove! Thanks so much!
God bless!
For comments or questions, contact me at: growinginhisglory@gmail.com
Find Growing in His Glory on
Facebook
.
I would love to see more of you! If you are encouraged by what you read here and would like to have posts from Growing in His Glory delivered to your inbox daily, simply click here. Or you can subscribe in a reader of your choice on the right sidebar.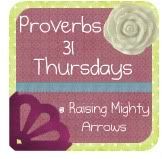 >